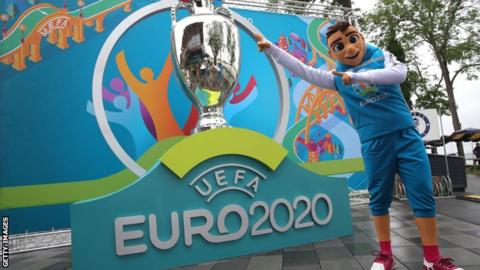 How does qualifying work?
There are 10 qualifying groups, of five and six teams, with the top two countries from each group going through automatically. Twenty-four teams in total will play in the finals next summer.
The first round of qualifiers were held on 21-23 March 2019 with the final games taking place on 17-19 November 2019.
There are no play-offs after these qualifying groups for third place. Instead, the 16 countries who won their respective groups in the Nations League have the safety net of at least a play-off place if they fail to make the top two. England and Scotland are among those teams.
If some of those teams qualify directly for Euro 2020 - which is highly likely - then the next best team in their Nations League tier who do not qualify automatically themselves take their play-off place.
The play-off draw is on 22 November 2019, with the semi-finals and finals being played from 26 to 31 March 2020.
These are the teams guaranteed a play-off place at least.
League A: Portugal, England, Switzerland, Netherlands
League B: Ukraine, Denmark, Bosnia-Herzegovina, Sweden
League C: Finland, Norway, Scotland, Serbia
League D: Georgia, Belarus, Macedonia, Kosovo
How are the home nations doing?
England and Northern Ireland are top of their respective groups after winning every game so far in qualifying.
England have had three big victories so far, 5-0 against the Czech Republic and 5-1 against Montenegro in March, and then 4-0 against Bulgaria on Saturday. They are one point above unbeaten Kosovo, who they host at St Mary's on Tuesday.
Northern Ireland, meanwhile, have played four qualifying games in Group C and won all four. Michael O'Neill's side have claimed home and away wins against Estonia and Belarus but things get considerably tougher from here. On Monday they host Germany before travelling to Rotterdam in October to face the Netherlands. Those fixtures are then reversed in November.
Defeats in Croatia and Hungary meant Wales were playing catch-up, but they edged past Azerbaijan 2-1 courtesy of Gareth Bale's late goal.
Ryan Giggs' side are now back in the mix with six points from their four Group E games, three points behind leaders Hungary and Croatia, who thrashed Slovakia 4-0.
Scotland needed a win at home against Russia to revive their hopes and it started well through John McGinn's goal, but the visitors turned the game around to win 2-1.
Steve Clarke's side have six points from five games following wins against San Marino and Cyprus and previous defeats by Kazakhstan and Belgium.
The Scots remain fourth in Group I, nine points behind leaders Belgium, who thrashed San Marino 4-0, and six behind Russia.
How are Europe's other leading nations getting on?
World champions France are favourites to win Euro 2020 and are top of Group H with 12 points from five games.
They suffered a shock 2-0 defeat by Turkey in June but they beat Albania on Saturday are expected to see off Andorra on Tuesday.
Spain are looking strong in Group F. They have won all five of their games so far, scoring 13 goals and conceding three.
The Netherlands are back in the hunt in Group C, as they came from behind to beat Germany 4-2 in Hamburg - Liverpool's Georginio Wijnaldum and Barcelona's Frenkie de Jong among the Dutch goalscorers.
The Dutch will be under huge pressure to qualify for Euro 2020 after failing to make it to the 2018 World Cup. They now have two wins from three games in Group C, gaining revenge after Germany beat them in the Netherlands earlier this year.
Meanwhile, Cristiano Ronaldo's Portugal got their first win after two draws in Group B. They beat Serbia 4-2 in a thriller in Belgrade - but still sit eight points behind Ukraine.
Italy are firmly in control of Group J after six wins from six, edging past Finland 2-1 courtesy of Chelsea midfielder Jorginho's penalty.
Republic of Ireland are top of Group D with 11 points from five games, two points ahead of Denmark who were held to a surprise goalless draw against Georgia, and three in front of Switzerland, who eased past Gibraltar 4-0.
https://www.bbc.com/sport/football/49569247