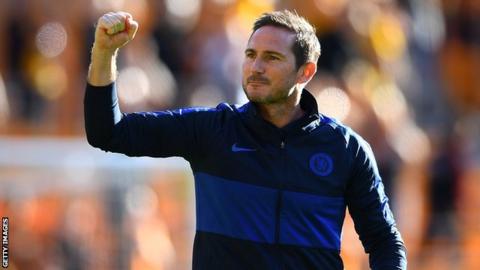 Chelsea's start to life under Frank Lampard has reflected the transitional nature of a club operating under a new template with an inexperienced manager, an influx of young players and a transfer ban.
Lampard has had mixed fortunes, combining impressive away wins at
Norwich
and
Wolves
with struggles at home, including a
damaging defeat by Valencia
in their opening Champions League game on Tuesday.
What are Chelsea's expectations?
Chelsea's managers are always given the same brief - get towards the end of the season in contention for the major trophies and the Champions League places.
And this year, irrespective of Lampard's relative inexperience and a transition accelerated by the transfer ban, this will be the aim again.
Chelsea may be in transition but owner Roman Abramovich is not lowering his sights. In financial terms, the club cannot afford to.
The difference between Champions League and Europa League football is about £60m at the bottom line, doubly important for a club whose Stamford Bridge capacity of 41,000 and its resultant revenue is outstripped by attendances at each of the other 'big six' clubs - Manchester United, Arsenal, Tottenham, Manchester City and Liverpool, as well as West Ham and Newcastle.
Lampard knows the demands and embraces them. Abramovich is desperate for him to succeed but will not be over-sentimental.
He is the 13th manager Abramovich has appointed since he bought Chelsea in July 2003, with reigns lasting from 1,205 days for Jose Mourinho's first spell to 223 for Luiz Felipe Scolari in 2008.
Why Abramovich backs Lampard to succeed
Chelsea recognised that appointing 41-year-old Lampard - after only one season in management which ended in a Championship play-off final defeat for Derby - carried some risk.
This was, of course, a club that had a supposedly "disappointing" season under Maurizio Sarri that ended with a return to the Champions League, a Europa League triumph and an appearance in the Carabao Cup final.
It was, however, a loveless arrangement on both sides, and part of the point of Lampard's return is forging a reconnection between club and supporters.
Owner Abramovich felt this was a bold choice that could reap rewards. It was an appointment arguably made earlier than was ideal but he still felt the time was right.
And in coming to his decision, Abramovich called on memories of what he witnessed from Lampard in his playing years at Chelsea, where he won 11 major trophies in 13 years and was the club's record goalscorer with 211 goals.
It was all part of the equation as Abramovich considered Chelsea's future.
It is a stretch to suggest Lampard forged a close personal relationship with the Russian as a player but he was seen as an outstanding influence, someone Chelsea's owner could lean on and someone who demonstrated rich promise as a coach and wore the burden of management comfortably at Derby.
This all made him Abramovich's man.
Lampard trusts in youth
Chelsea's hand has been forced, to an extent, by
a Fifa-imposed transfer ban
until the end of January 2020, enforced after an investigation into their signing of foreign under-18 players.
It has pushed forward the development of Abraham, Mount and Tomori, who have split Chelsea's 11 Premier League goals this season between them.
Abraham found it a struggle during a loan spell in the Premier League with Swansea in 2017-18, scoring only five goals in 31 games, but he was the key man in Aston Villa's promotion to the Premier League with 26 goals in 40 games last season.
Mount and Tomori were instrumental in Derby reaching the Championship play-off final under Lampard, meaning he has had no hesitation in playing them in the top flight this term.
It is almost certain they will be joined by 18-year-old Callum Hudson-Odoi and Ruben Loftus-Cheek, still only 23, once they recover from injury. Reece James, the 19-year-old defender, is another rich prospect.
Their emergence is the result of a deliberate change in Chelsea's targeting and scouting strategy at this level over the past seven years, aiming to recruit the cream of young British talent rather than focusing on Europe and elsewhere.
And in Lampard, with his own stellar career, they believe they have the perfect mentor who trusts their talent.
https://www.bbc.com/sport/football/49755931