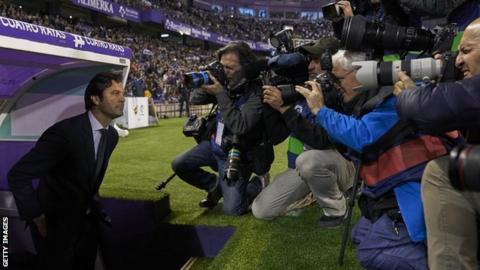 Santiago Solari,Former
Real Madrid
coach, is keen to put his experience in
Madrid
behind him and return to coaching in one of Europe's "big leagues".
Solari was called up from the Castilla feeder team in 2018 to replace Julen Lopetegui after the ex-
Spain
coach was relieved of his duties less than three months into his tenure.
while the Argentine delivered Club World Cup success for the Merengue, he failed to convince those in charge he was the right man for the job and by March found himself replaced by Zinedine Zidane.
Out of work since that dismissal, Solari insists he bears no grudges with the club he represented as both player and trainer, while signalling his intention to return to the fold.
Solari's compatriot Mauricio Pochettino is one Argentine who has forged a fine reputation as a coach in English football, achieving success with both
Southampton
and
Tottenham
since moving to the Premier League.
"I am not friends with him but I know him and I admire him and what he has done last year and the year before," Solari said of Pochettino.
https://www.goal.com/en-ng/news/ex-real-madrid-boss-solari-eager-for-coaching-return/1fmjsr1860s4q1nltvxqgbwvsv