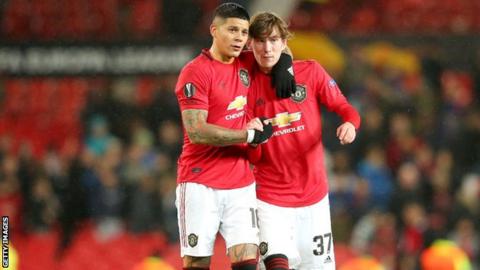 Argentine club Estudiantes have welcomed back Marcos Rojo, with the Manchester United defender set to join on loan until the end of the season.
Rojo, 29, joined United from Sporting Lisbon for £16m in 2014, but he has not featured for United since the 3-1 win over Brighton on 10 November.
The Argentina centre-back began his career at Estudiantes before he joined Spartak Moscow in 2011.
"You always return to the places where you were happy," tweeted Estudiantes.
"Because the sense of belonging is stronger. Your dream and that of the Pincha Family comes true. We are reunited. Welcome and thanks for coming back, Marcos! We welcome you with the heart!"
Rojo, who has also played left-back for United, has started just 13 games in the past two years, despite him being given a lucrative new contract in March 2018 that lasts until 2021.
His only Premier League start of this season was in United's 1-1 draw with Liverpool on 20 October.
Rojo will return to United at the end of this deal, but he has taken a pay cut with this move because he was worried that his lack of game time at United would hamper his chances of being selected for this summer's Copa America which Argentina are co-hosting with Colombia.
At Estudiantes, he will play alongside former West Ham and Liverpool midfielder Javier Mascherano, while ex-United player Juan Sebastian Veron is the club's chairman.
https://www.bbc.com/sport/football/51293254